this is just a few top locations across our great nation
Golden Bay, at the top of the South Island, is one of Aotearoa's finest summer holiday destinations. Sunshine, slopers, swimming holes and hippies form the basis of an existential cosmic harmony in the Bay.
The main climbing area is Payne's Ford, New Zealand's premier limestone sport climbing destination.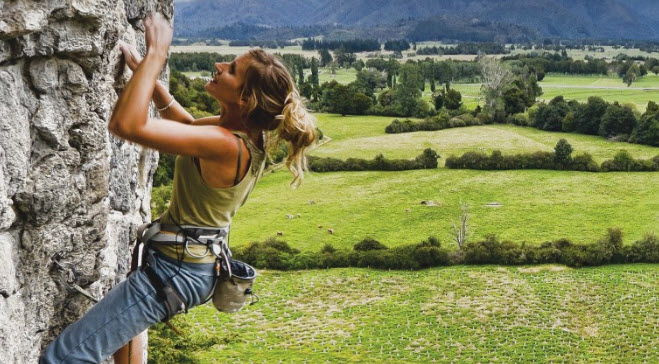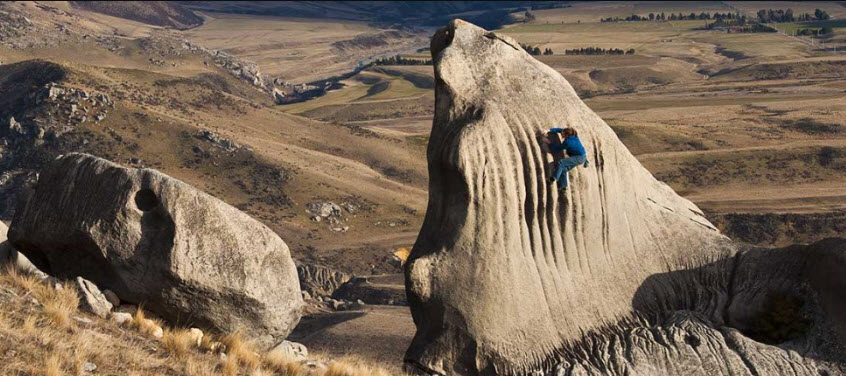 CASTLE HILL BASIN South Island
The South Island's Castle Hill Basin, in Canterbury, is New Zealand's showpiece bouldering area.
Thousands of limestone boulders lie in grassy alpine meadows across the basin. The climbing style is very unique—there is very little friction, and even less in the way of conventional hand or foot holds. To be successful at Castle Hill, you don't pull on the slopers … you climb them
The Darran Mountains and Cleddau valley, near the famous Milford Sound in south-western New Zealand, contain the best rock in the country. The valley crags are steep sculpted bowls of perfect stone, and are suited well to hard sport climbing. The diorite walls above the snowline are generally coarser grained and slabby with few cracks—your classic Darrans multi-pitch route will include some healthy run-outs on both smears and edges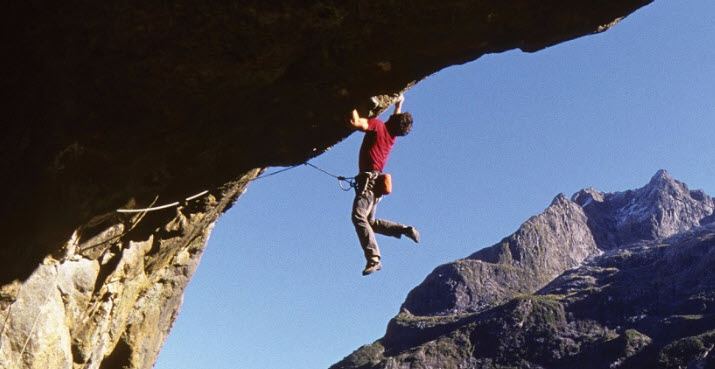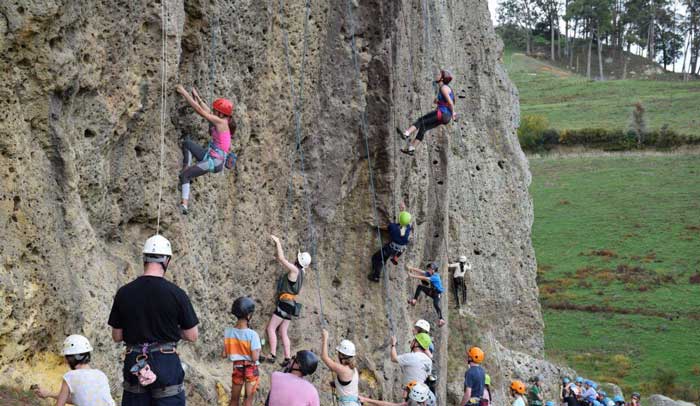 Castle Rock is situated in the Waikato on Owairaka Valley Road, Wharepapa South. It has a large area of pocketed ignimbrite cliffs with something for everyone. Heights range from 6m to 25 m and grades from 12 to 26. There are 10 sectors, the most popular being Upper Tier, Lower Tier and Bumbly's Buttress.There is an entrance fee. Details are signposted at carpark.
The crag is on private farmland, there is a $10 fee (per person per day) to climb. This fee covers maintenance of anchors, bolts, and other facilities and is collected on an honesty basis – sign in and pay at the toilet(!) building beside the main car park.
This Crag has draw cords on almost every route, allowing for quick set up of top ropes. This, along with its easy access, makes it really suitable for groups of any size.
For more information, check out;
Climbing at Ti Point first started in the early 70's. Over the course of three years from 1972 to 1975, a number of lines were established using traditional protection. The crag ceased to see any significant development until the 90's when the crag experienced its 'second coming'. This second wave of development which continued through till 2005 can be attributed to the efforts of Graeme Dingle who became one of the crag's most prominent developers. Since then the crag has remained a favourite day trip for Auckland and Whangarei based climbers due to the proximity to these urban centres, the picturesque setting of the crag, and the concentration of quality rock climbing to be done at Ti Point.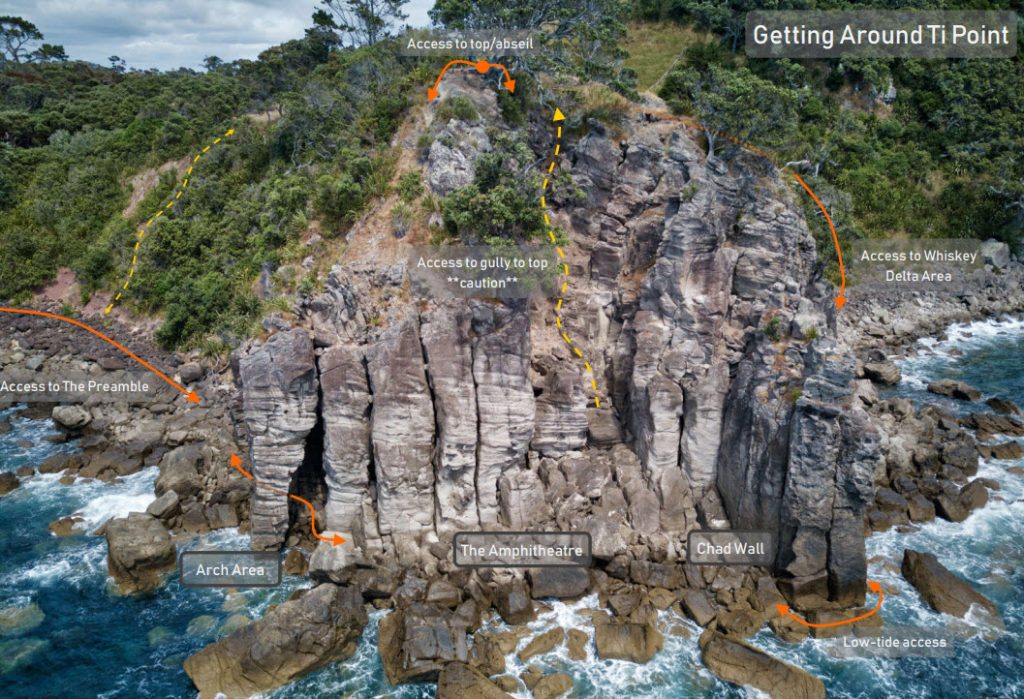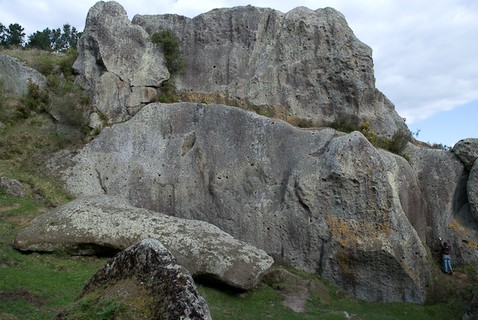 We found this is, as an ideal location for groups of 20 participants. It is part of Wharepapa South Froggatt faces.We took the Hoppers there for an all day climb. It was a busy day to drive there and back as well as climb in one day.
Slug Wall was relatively easy and quick to set up for top roping. The climbs were great for kids with grades ranging from 14 to 17. We were able to set 8 climbs side by side. This made it very easy to monitor and for the kids to see each other while belaying and climbing. Parents had a great vantage point to watch from the top of the slug. The foot of the climb was a little tight for space to stand belaying.
It was only a short walk to other faces for those who were a bit more adventurous or wanted to lead climb. The biggest hassle for the day was the cows drooling on our cars. We are so lucky to have access to venues like this and I would encourage anyone who uses it, to take in a rubbish bag and take anything out they has been left behind by other groups. Respect the land and the stock that may be on it.
Kawakawa bay North Island
Kawakawa Bay is arguably the best climbing destination in the north island of New Zealand. Nestled among native bush on the picturesque shores of Lake Taupo.
With well over 200 routes, Kawakawa Bay has a veered range of climbing; with some very easy single pitch sports routes, Multi pitch Trad, mixed and more advanced sports routes.  
The bay can offer some very exposed climbing with climbers finding themselves high above the lake many pitches up.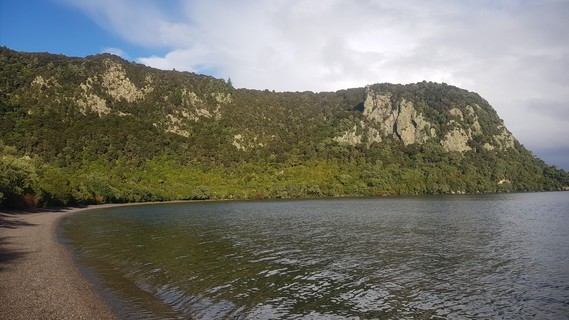 To provide a safe environment for people of all abilities and ages to experience climbing while having fun and enjoying each others company.

Vertical Adventures is a member of NZOIA (New Zealand Outdoor Instructors Association).